Dr. Christopher Graham's Extraordinary Public Service, Academic Achievement, Leadership and Community Engagement: Reflections On This Past Academic Year
Under my leadership, student success continued its upward trajectory at the John W. McCormack Graduate School (MGS). An important benchmark in higher education, student success is a life-cycle process. It involves, (1) recruiting students to join an academic institution, (2) keeping them actively engaged in their academic pursuits (retention), (3) ensuring that students complete their degree programs within a designated time (time-to-degree), (4) facilitating overall student well-being, (5) helping students with building successful careers after they complete their degrees, and (6) keeping them connected and involved as lifelong alumni.
06/30/2023| Christopher C. Graham
" It was certainly a colossal academic year ... And I wouldn't have had it any other way. "
From leadership in student success, to research and public scholarship, to teaching about climate change, this year saw me tapping into the breadth of things that I deeply care about. With it now in the rearview mirror, It's safe to say that the 2022-2023 academic year was undoubtedly vibrant, filled with many twists and turns in the best ways possible.
Student Success and Leadership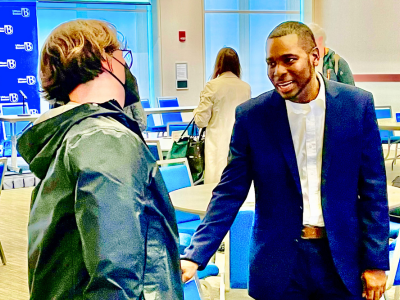 In academic settings, these indicators reflect and contribute to students' college experience. Facilitating student success is similar to managing the quality of a customer's experience using a product or service in the business world. Student success therefore impacts the bottom line of higher education institutions. It also reflects the values and greater purpose of those institutions in meeting the demands of today's industry and society at-large.
The pieces of the puzzle though, are not fully controlled by any one person who has the title of student success manager. Student success outcomes are strongly influenced by a wide range of factors both within and outside of a college's control. From resource limitations, to registration bottlenecks or some other form of process inefficiency, to students accessing tuition finance­–they pretty much run the full gamut of issues. Knowing this, one of the main goals that I set for myself this year as MGS' student success manager and advisor, was to deepen access to support services available throughout the university for our students enrolled in online undergraduate programs.
Much of the groundwork for student success at MGS dates back to the establishment of the Dean's Office Student Success (DOSS) program in 2018.  Back then, I joined the Dean's office staff as DOSS' inaugural program assistant, helping to build and manage the program.
Fast forward to today, student success is at an all-time high at our policy school. Considering recruitment and retention, enrollments in the School's two undergraduate programs have nearly doubled in the last year since I took office as Student Success Manager. Much of this progress was won through my astute care, data analysis, and personalized advising using degree audits and various client management software including Peoplesoft and Salesforce.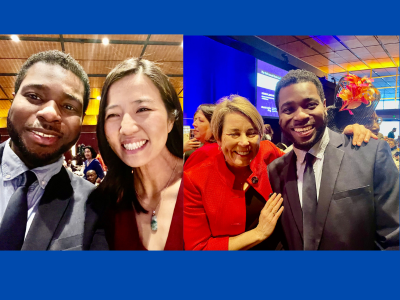 Student engagement in co-curricular and extracurricular activities, which contributes to retention, has also markedly increased. One the delights for me this year was managing several career development opportunities for students enrolled in our graduate degree programs. Over 30 students were provided with support through various scholarships, internships, fellowships, and conference travel grants.  
Several students also received awards for their outstanding academic achievement, which builds up a tradition for recognizing and celebrating student excellence at MGS. When I began as program assistant for DOSS back in 2018, there was only one main college-wide award recognizing students' excellence in public service at MGS. Within that year, I established several other awards that recognized outstanding student achievement and outstanding faculty mentorship of students. And this year, I added a staff award for outstanding student mentorship to the list. All of these activities over the years proved valuable for deepening student belonging, community-building, and ultimately contributes to increased student satisfaction at our policy school.
Public Scholarship and Research
In addition to my administrative work at the McCormack Graduate School, I continued active engagement in academic and policy research. At the start of academic year 2022-23, I began my tenure as a visiting research scholar at Boston University. My research projects are currently based in the African Studies Center (ASC) at the Pardee School for Global Studies. There, I worked on two main research projects and participated in two main public scholarship opportunities.
One of my research projects aims to develop more impactful responses to rapid urbanization and climate change in four of Africa's major cities - Nairobi, Cairo, Lagos, and Johannesburg. I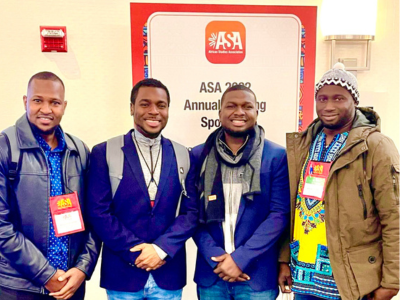 presented preliminary findings from this study at the 65 Annual Meeting of the African Studies Association in November 17–19, 2022 held in Philadelphia, USA. The tittle of my presentation was Africanfuturism and Urban Planning: Sustainability and Smart City Design for Africa's Megacities. I also created a digital art collection entitled Urban Futures: Re-envisioning Planetary Habitats – that accompanies this research project. I will debut this art collection later this summer or early next fall, so look out for this.
Building on the momentum from ASA 2023, I headed to Montreal, Quebec, Canada for the International Studies Association's (ISA) annual general conference 2023. There, I presented research from my on-going book project. My paper was entitled Responding to Climate Emergencies: Climate Change Risk Assessments (CRAs) and Refugee Determination Systems (RDS).  In the paper I examined ways that these two bodies of knowledge and practice–CRAs and RDSs­­–could learn from each other to establish more formal rights and legal statuses in international refugee law for people who are displaced by extreme weather events and slow-onset climate disasters.
Teaching and Mentoring 
Pedagogy featured even more prominently for me this year, teaching four courses across two separate colleges. One of the classes I taught stood out. Having won a course enhancement grant from Boston University's African Studies Center, I developed a graduate course entitled Issues in World Politics: Climate Change and The Global South. The course was offered as an elective in the Master of International Relations program. I designed the syllabus and taught the class mainly using the Socratic method along with game-changing case studies on climate change in a boardroom style setting. The course was delivered in hi-flex mode–that's where students have the option to attended class in-person or remotely.
In a hightech supported classroom and using various e-learning tools, students tapped in weekly to discuss the theories, science, politics, management, and policies related to climate change's impact on Global South geographies, economies, and populations. What made this course even more meaningful for me than usual, is that there was a direct connection between my current research work and the content that I was teaching. This was great. I was able to bring vast amounts of real-time real-world happenings in climate science and politics into the classroom for my students.
The course also spawned a vibrant speaker series on Climate Change and The Global South. Each week I invited guest speakers to share their expertise on topics including climate diplomacy, energy policy, climate migration, and global climate justice. Students taking the class, under my guidance, also produced a range of thoughtful term papers aimed at finding solutions to climate problems and creating more North-South synergies on global climate governance.
Between my administrative duties, research and public scholarship, people often ask me how did you also find the time to teach? I simply smile and say, it's a mix of good time management, my longtime love for teaching, my students, and passion for the issues I teach about that fuels me. I make the time.
No doubt though, this was certainly a challenge, but I wanted to take on that challenge. I rose to the occasion, stayed the course, and ended up having a really rich intellectual experience that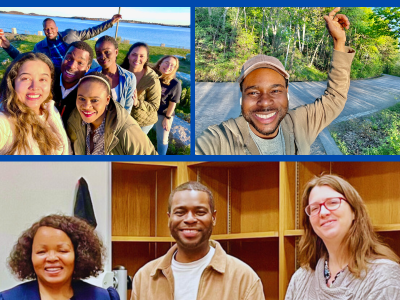 was so worth it. Yet, I still found time to unwind, unplug, catch up, meet new folks, travel, create art, and had some really great hiking trips and nature adventures.
There are so many other things that made this year so extraordinary and enjoyable for me in leadership, scholarship, public service, and teaching. It was certainly a colossal academic year, needless to say at this point. And I wouldn't have had it any other way.
What's really great about me writing a piece like this, is that, first, it could serve as inspiration to others about the possibilities that exist out there in the world and the courage to pursue your own universe of things that matter most to you. Second, it's somewhat cathartic for me to every once in a while pause and reflect, because it all goes by so fast and I'm always excited for what I'll do next.
So, until we meet again, continue the good work that you do, wherever you can. If you see me around do come up and say hi.
Wishing you all the very best,
Christopher C. Graham, Ph.D.